THE 2016 CALIFORNIA CUP
CSL will again be hosting the California Cup in 2016.
This is a Class 1 tournament and will be accepting both US Club soccer and USYS (Calsouth) 2015-2016 playing cards.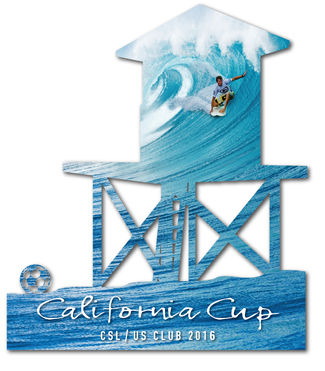 Teams U11 thru U19: The cost is $450 for the tournament.
Teams U8 thru U10: The cost is $425 for the tournament.
Please note that the registration fee does not include referee fees. Each team will pay 1/2 of the total referee game fee. The CSL Handbook outlines each team's share of the referee fees for the length of each game. CSL will pay all referee fees for the FINALS.
IMPORTANT CHANGE FOR CSL's CAL CUP FOR 2016.
Cal South has now implemented the USSF MANDATED CALENDAR YEAR AGE CHANGE beginning July 1, 2016.
What does this actually mean to you? It means gaming leagues, like CSL, must adopt the new USSF age requirements for their 2016 League Season.
In reality, the gaming leagues will follow the mandate beginning July 1st. Gaming leagues have no choice. The real issue is just how do the actual teams comply with this rule. Each Club will adopt its own policy of how to implement this new rule and clubs will differ on how they implement the change.
So, here is your issue:
A. If your club does not adjust its teams' ages until July 1st, there are tournaments that will be available for you to participate in that they will cater to your current age group, but this may leave you unprepared for post July 1st tournament play and league play.
B. If your Club immediately creates new teams following the calendar year mandate in order to prepare for the upcoming 2016 season, there are currently no tournaments sanctioned by Cal South for your new team to participated in prior to July 1st.
CSL's CAL CUP has solved your dilemma.
CAL CUP is offering both a current year tournament and a new Calendar Year tournament. Both tournaments will be held side-by-side but with separate rules, flights and awards.
Your Team now has a choice:
1. Teams may use CAL CUP as a warm up for State Cup participation or as a tune up for other tournaments that are sanctioned for the old age group requirement. CAL CUP has been a stand alone tournament with great competition for all competitive levels for a very long time and CAL CUP will follow that tradition and host another great event again in 2016.
OR:
2. Teams may register as a CALENDAR YEAR team and play with other CALENDAR YEAR teams in order to try out new players, practice as a new team and actually get ready for all the Calendar Year Tournaments starting after July 1st, 2016.
CAL CUP will allow all players with the appropriate calendar year birthdate to use their existing player Cards to participate as a Calendar Year team. The players may be from any team (and from any club), using any player pass as long as they are of the appropriate age.
Please note that the CALENDAR YEAR age group is a reality; it is mandated and every team must be in compliance on July 1st, 2016.
Whatever your needs are during this transition period, CSL CAL CUP will allow you to get ready for the 2016 League Season.
Please go to www.cslcalcup.com and register today. Please follow the instructions on the registration page and input the date of your oldest player.
If for example, you put in January 1, then you be playing "CALENDAR YEAR." If you put in August 1st, you will be playing under the current seasonal year.
We hope you join us. CAL CUP will get your team on the right track for the 2016 Season.